Katina Alamo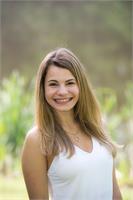 Katina is a registered yoga teacher, having obtained her 200 hour yoga certification from Onyx Yoga Studio. Katina was introduced to yoga when she was in high school. Over time, Katina was transformed by yoga and now it is her mission for others to join her on this journey and discover this powerful, simple practice to heal and embrace love and joy.
Katina intuitively knows where to meet the student and guide them gently on this path, allowing them to unfold and discover yoga at their pace. She brings with her a true love of yoga, creating a sacred space for students to deepen their physical and spiritual practice with the ultimate goal of restoring balance and overall wellness.
Katina Alamo instructs the following:
This Hatha yoga class is designed to invigorate the mind and the body by moving slowly and methodically through a sequence of traditional postures. Beginning and ending in Savasana, the class is perfect for anybody looking to relieve stress and energize, as well as build flexibility and strength. Appropriate for all levels, including beginners.




Therapeutic Yoga is a particularly effective practice for those recovering from, or living with, injury or illness. The focus of this class will be to help decrease pain, fatigue, insomnia, stress, and negative emotional feelings due to illness. Pranayama (breath work), restorative poses, accu-pressure points, visualizations, hands-on healing and essential oils will be combined in class in order to achieve balance in your body, mind and spirit. If you are not suffering from illness but just want to relax you are also welcomed to come!