John Cotone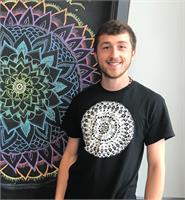 In early 2017, John began his journey in yoga while looking for something to keep his mind busy and his body active. Although his predominant training is vinyasa based, he also likes to incorporate Yin postures into some of his classes. Students can find a safe space to be and find themselves in his class. Through the use of mindful movements, conscious breathing and optimal alignment, students will begin to obtain a better awareness for their body as well as cultivate a feeling of centeredness that can be accessed on and off the mat. John feels as though the spiritual side of yoga has greatly impacted his life and he enjoys sharing that based on his knowledge of the Yoga Sutras and The Bhagavad Gita. The practice of yoga has helped heal him physically, mentally, and emotionally and he hopes to be able to share that with his students to allow them to reach their full potential.
John Cotone instructs the following:
Connect movement with breath "vinyasa" as the teacher guides you through traditional yoga asana postures sequenced into a "flow". Against a backdrop of great music, move through physical postures, usually starting with a sun salution series. Often included is chanting, pranayama (breathing exercises), yoga philosophy and meditation. All levels of practitioner are welcome at Mixed Level classes, although some knowledge of basic postures is recommended and those new to yoga should bring an open mind and an understanding that class will likely move at a rigorous pace.




A Vinyasa Yoga class performed at a WARM temperature (90+ degrees) and taught at a regular Mixed Level pace. A prior yoga practice and knowledge of basic postures is assumed as the class moves quite vigorously. The only difference between a HOT Flow class and this one is temperature. Come prepared to explore physical postures, traditional yogic chanting, breathwork and philosophy. Bring a non skid towel for your mat, hydrate well prior to class and bring water. We recommend that true beginners should start in Beginner Basics (regular temperature) before moving into WARM or HOT classes.




Yin is an internal, passive, colling, and downward practice. We wake up the subtle channels while playing with a contemplative, non- reactive quality in the mind. Poses are passively held for longer periods, working on the deep connective tissue, fascia, and joints Yang is an engaging, dynamic, external, warming, and upward practice. This will strengthen and invigorate the body and mind. We will most often be doing a bit of Yang to begin and will shift into a reflective Yin practice to close. This combination will be sure to leave you balanced, open, and refreshed.




Restorative yoga classes are a wonderful tool for rejuvenation and complement more active practices. In restorative yoga, props are used to support the body so that you can hold poses for longer, allowing your body to relax, release and let go. The postures are usually modified from reclined or seated yoga poses with the addition of blocks, bolsters, and blankets. With the use of props you can safely access and benefit from sustained stretches in a supported manner to minimize strain and maximize opening. Once you are set up in the pose with the assistance of props, you will hold the pose for an extended period of time, often eight to fifteen minutes. Restorative yoga is a relaxing style of practice that leaves you feeling open and refreshed.




Yin Yoga is a simple, quiet, in-drawn practice that uses steady, long-held postures that benefit your "yin," connective tissues, such as the fascia, ligaments, tendons, joints, and bones. Poses are held 3 to 5 minutes each with all muscles relaxed and released.

Yin Yoga is a more meditative approach to yoga, that aims at cultivating awareness of inner silence. It can be practiced by everybody and will complement an already active life or help those who feel distracted by "mind chatter".

This practice calms the mind and nervous system, reduces stress and anxiety, increases circulation, improves flexibility and joint mobility, balances the internal organs and improves the flow of chi or prana through meridian stimulation.