Sarah Frydlewicz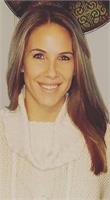 Sarah began her yoga journey in January of 2014. What started out as a challenging workout, soon became a guide toward self-discovery, mental clarity, emotional healing and spiritual growth. Sarah was amazed by the way her yoga practice eased her anxiety and taught her how to live from a place of gratitude, intention and presence. She truly believes that because of yoga she has become a better wife, daughter, sister, teacher and friend. With a goal to deepen her practice, gain knowledge and understanding of the teachings and share this gift with people of all ages and abilities, Sarah enrolled in Onyx Yoga Studio's Teacher Training Program and received her RYT-200 certification in 2018.
Sarah is a 1st grade teacher and has a passion for helping children see themselves as strong, smart, compassionate and confident individuals, but with a lot of pressure constantly pressing our kids to do well academically and fit in socially, it can be really hard. Sarah uses yoga in her classroom daily to teach her students how to be true to who they are and how to make the connection between their mind, body and breath to allow them to find comfort, gratitude and ease in whatever they do, wherever they go. Sarah received her children's yoga certification through Peace Play at Onyx Yoga Studio in 2016.
Sarah's goal is to bring the yoga teachings into each class and help make the philosophy of yoga relatable to each student in such a way, that they begin taking their yoga off the mat and into their daily life. Sarah is inspired by her teachers Shannon Elliott, Jane Lindemann and Gabi Perrotti and is eternally grateful for their love, support and guidance on this journey toward happiness and contentment.
Sarah Frydlewicz instructs the following:
A Vinyasa Yoga class performed at a WARM temperature (90+ degrees) and taught at a regular Mixed Level pace. A prior yoga practice and knowledge of basic postures is assumed as the class moves quite vigorously. The only difference between a HOT Flow class and this one is temperature. Come prepared to explore physical postures, traditional yogic chanting, breathwork and philosophy. Bring a non skid towel for your mat, hydrate well prior to class and bring water. We recommend that true beginners should start in Beginner Basics (regular temperature) before moving into WARM or HOT classes.