Shereen Bernaz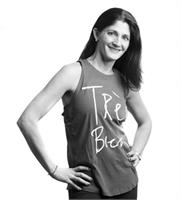 Shereen is a Vinyasa style yoga teacher certified by Rethink yoga. She found yoga after dealing with 28 broken bones as a child. Yoga has changed her life, both mentally and physically. Her classes are challenging yet fun and she teaches with a combination a humor and vigor. Shereen loves to share a mantra with her class that will carry them throughout the week. Outside of yoga, Shereen is a mother to three beautiful children, and enjoys running, cooking and cycling.
Shereen Bernaz instructs the following:
A Vinyasa Yoga class performed at a WARM temperature (90+ degrees) and taught at a regular Mixed Level pace. A prior yoga practice and knowledge of basic postures is assumed as the class moves quite vigorously. The only difference between a HOT Flow class and this one is temperature. Come prepared to explore physical postures, traditional yogic chanting, breathwork and philosophy. Bring a non skid towel for your mat, hydrate well prior to class and bring water. We recommend that true beginners should start in Beginner Basics (regular temperature) before moving into WARM or HOT classes.