Alex Casner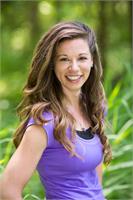 Alex is a certified 200 HR RYT and also holds a certification in advanced trauma and addiction training. As well as a personal trainer, she works with her students to help them reach their goals and aspirations through hard work and a splash of humor.
Alex believes that everyone can find a comfortable space to allow themselves to grow with the belief that one is never too old to accomplish their dreams and desires. Alex discovered yoga in 2015 after finding Onyx a few short minutes from her home. She was immediately hooked and began her journey by attending more than 370 classes in her first year of being a member. She attributes her passion and love for the art to her teachers and mentors; Shannon Elliot, Gabriella Perotti, and Jane Lindemann who not only showed her the beautiful path that yoga could lead her on, but also an entirely new way of living.
Alex has been interested in athletics before she entered grade school, immersing herself in competitive swimming, boxing, mixed martial arts, and cross country. She competed for a semi-professional swim team until she entered college where she earned her Bachelors Degree in Public Relations from Kean University.
Alex Casner instructs the following:
This class is open to anyone in recovery or on the journey to recovery who is or has been challenged by addiction and trauma. We will create a safe space for healing the body, mind, and soul. This class will focus on linking breath and movement, tapping into your emotions and feelings, and opening to the process of recovery. This practice will give you a set of tools and support for living a wonderful, healthy life. Everyone is welcome, beginners highly encouraged. Our goal is to create a sacred recovery community!

The entrance for this class is on the side of the Yoga studio and there will be a paper sign-in, so your anonymity will be protected to the best of our ability.

Funds to support this program are provided by Onyx and Kula for Karma, a non-profit organization bringing therapeutic yoga and meditation to those most in need, transforming lives and changing the face of healthcare.




Connect movement with breath "vinyasa" as the teacher guides you through traditional yoga asana postures sequenced into a "flow". Against a backdrop of great music, move through physical postures, usually starting with a sun salution series. Often included is chanting, pranayama (breathing exercises), yoga philosophy and meditation. All levels of practitioner are welcome at Mixed Level classes, although some knowledge of basic postures is recommended and those new to yoga should bring an open mind and an understanding that class will likely move at a rigorous pace.




Level 1 moves through physical postures at a very moderate pace, usually starting with a sun salution series. Level 1 offers verbal instruction in alignment during the flow, but less than you will find in Beginner Basics, and more than you will find in Mixed Level. Often included is chanting, pranayama (breathing exercises), yoga philosophy and meditation. All levels of practitioner are welcome at Level 1 classes, including Beginners, although those very new to yoga should bring an understanding that the class will be moving and flowing.




Looking for a challenging yoga class? Take time out from your daily activities to reconnect with your breath and your body. This class will help you build strength, stamina and flexibility. Invest 60 mins and leave feeling refreshed, renewed, and ready to take on the rest of your day! mixed level.