Joshua Ansley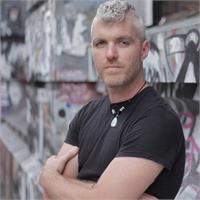 Joshua's yoga is not for the faint of heart. His teaching lies heavily in Vedantic philosophy and is filtered through his background as a classically trained actor in London, a playwright in NY, a filmmaker in Los Angeles, a professional touring rock musician and a teacher training by Eric Paskel of Yoga Shelter in LA and Detroit. That's right...Detroit Rock City. Joshua has been teaching Vinyasa and Yin Yoga in both Spanish and English in Tulum, Mexico at Amansala's 'Bikini Boot Camp', Yoga Shala, Yoga Dicha and Casa Violeta and he has now returned to NY to continue on his own path of teaching and being of service. Joshua is an urban monk and believes that all suffering is not caused by the world, but rather our relationship to it. Only through brutal honesty and consistency do we retrain the mind to keep us at our edge physically and mentally and thus surpass even our own expectations on our journey to greatness. His blend of poise and grace gleaned from classical text mixed with his Jersey boy sense of humor and musical talents brings a one of a kind power yogic experience to your own journey of transformation. Are you ready?
Joshua Ansley instructs the following:
Vinyasa Flow yoga taught in a heated environment, 100+ degrees 40%+ humidity. HOT Vinyasa classes move through yoga postures and sequences at a rigorous pace. A prior yoga practice and knowledge of basic postures is assumed given the extreme conditions. Come prepared to sweat and move, although traditional yogic chanting, breathwork, philosophy and meditation are often included also. Bring a non skid towel for your mat, hydrate well prior to class and bring water. Also, dry clothes and/or coverup for after class is advisable. We recommend that true beginners should start in Beginner Basics (regular temperature) or Warm Slow Flow before diving into HOT Vinyasa.