Jill Portaro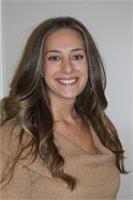 Jill dove into the yoga world after quitting her high paced 9-5 job to start her own mental health private practice. She thought yoga would be a good way to help pass the time as she built up her practice. A few months later, she signed up for teacher training and has grown to love the philosophy as well as the asana (practice). She now realizes that yoga is far from just a way to pass time. In fact, her life would be incomplete without it. Jill completed her 200-hour teacher training at Onyx Yoga Studio. Jill brings her warm-hearted energy to help students reach their full potential while feeling guided along the way. With a focus on alignment and breathwork, Jill helps students feel safe and capable in class. Her creativity and honesty will keep you laughing while working towards challenging yourself. She incorporates her mental health background onto the mat through mindfulness based principals leaving students feeling grounded even after leaving the mat.
Jill Portaro instructs the following:
Experience Kundalini Yoga as taught by Yogi Bhajan. This class will focus on pranayama breathwork, movement, meditation, and kriyas (cleansing practices to help strengthen the nervous system and subtle body to awaken the kundalini energy.) When this energy awakens you will experience your own innate inner power and joy.. You will leave feeling rejuvenated, energized, balanced, and present. Shannon studies Kundalini Yoga under her teacher Guru Jagat.