Teresa Robinson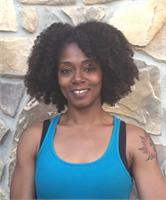 Teresa tried yoga for the first time in December 2014, and immediately fell in love. She became fascinated by the physical demand of the practice and how calm and relaxed she felt after each class.
Yoga helped Teresa move through a very difficult period in her life, overcoming depression and anxiety. She believes the practice is about clearing away whatever is in us preventing us from living a full and happy life.
To share this gift with others, Teresa completed her 200-hour Teacher Certification at Onyx Yoga Studio in Warren, NJ. She loves studying the Philosophy and Teachings and incorporating them into her classes, in a way that is relatable to everyone. Teresa teaches Vinyasa flow with a strong emphasis on Alignment, providing a safe and mindful approach by offering variations for anyone at any level. She challenges her students to go beyond what they believe possible to realize their unlimited potential. Teresa is eternally grateful for all of her teachers, past, present, and future.
Teresa Robinson instructs the following:
A Vinyasa Yoga class performed at a WARM temperature (90+ degrees) and taught at a regular Mixed Level pace. A prior yoga practice and knowledge of basic postures is assumed as the class moves quite vigorously. The only difference between a HOT Flow class and this one is temperature. Come prepared to explore physical postures, traditional yogic chanting, breathwork and philosophy. Bring a non skid towel for your mat, hydrate well prior to class and bring water. We recommend that true beginners should start in Beginner Basics (regular temperature) before moving into WARM or HOT classes.




This class is taught like a regular vinyasa flow class in the hot room. It is faster paced and provides an opportunity to play your edge with optional arm balances and inversions.