Noelle Strid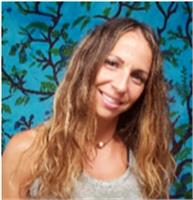 Noelle discovered yoga shortly after the birth of her daughter in 2008 and has been practicing ever since. She was immediately hooked, and was captivated by how much it helped her to build strength both mentally and physically, while allowing her to find peace and serenity. She has always had a love of dance, and is fascinated with the way bodies can find freedom through movement. She also has a background in ecological studies and is deeply passionate about the natural world. Her classes incorporate these notions, while creating a safe and nurturing environment for students to practice and grow. She received her 200 hour RYT at Onyx Yoga Studio in Warren, NJ and will be forever grateful to Shannon Elliot and Inna Hekler and all other teachers past, present and future for sharing their knowledge and love of yoga. She hopes that she can continue to share these teachings so others will be able to realize the same benefits and make yoga a sustainable part of their lives.
Noelle Strid instructs the following:
This class is open to anyone in recovery or on the journey to recovery who is or has been challenged by addiction and trauma. We will create a safe space for healing the body, mind, and soul. This class will focus on linking breath and movement, tapping into your emotions and feelings, and opening to the process of recovery. This practice will give you a set of tools and support for living a wonderful, healthy life. Everyone is welcome, beginners highly encouraged. Our goal is to create a sacred recovery community!

The entrance for this class is on the side of the Yoga studio and there will be a paper sign-in, so your anonymity will be protected to the best of our ability.

Funds to support this program are provided by Onyx and Kula for Karma, a non-profit organization bringing therapeutic yoga and meditation to those most in need, transforming lives and changing the face of healthcare.




This class is taught like a regular vinyasa flow class in the hot room. It is faster paced and provides an opportunity to play your edge with optional arm balances and inversions.