Gemma Golden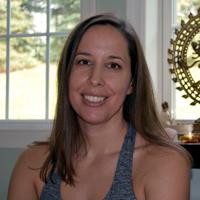 Gemma is a certified yoga instructor with a focus on alignment based principles to assist with maximizing the full potential in each yoga pose. She received her initial 200-hour training from Yogadharma in 2003 and is currently deepening her yoga studies in a 300-hour Level II training, focusing on the energetics of optimally aligned asanas and applied therapeutics. Gemma came to yoga as a way to recover from persistent back pain following back surgery. Through the practice she found a safe way to build strength and heal her own body. As a teacher Gemma breaks down the instructions for each posture with focus on alignment and breath, fostering an accessible practice for anyone that shows up on the mat.
Gemma Golden instructs the following:
A challenging method of Hot Hatha. This class is composed of 26 postures which build overall strength and stamina, while detoxifying your body and creating mind/body healing.




Connect movement with breath "vinyasa" as the teacher guides you through traditional yoga asana postures sequenced into a "flow". Against a backdrop of great music, move through physical postures, usually starting with a sun salution series. Often included is chanting, pranayama (breathing exercises), yoga philosophy and meditation. All levels of practitioner are welcome at Mixed Level classes, although some knowledge of basic postures is recommended and those new to yoga should bring an open mind and an understanding that class will likely move at a rigorous pace.