Gabi Perrotti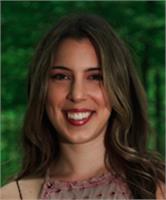 A yogini since before she could even say "OM," Gabi was introduced to yoga and meditation by her grandfather who was a devoted practitioner. Inspired by his way of life, she committed to her own practice in 2003 and has "continually been blown away by the ability that this practice has to give us exactly what we need in each moment, even as that need is constantly changing. Yoga is a perfect method and metaphor for life." With her soothing voice and encouraging demeanor, her classes will have students of all levels feeling challenged and capable, strong and supple. Her classes are a moving meditation as she links breath with movement and she has a keen awareness of the ability that music has to move practitioners to greater depths. Inspired by her teachers Shannon Elliot and Amy Cronise-Mead, she teaches Vinyasa classes with special attention to alignment as a way to progress rapidly and safely, and to develop integrity and mindfulness. The eternal student, when Gabi is not on the mat, she is most likely to be found at a library or bookstore; she is in the Rutgers Graduate School studying Eastern Religions and Philosophies as well as Sanskrit. She feels "ridiculously lucky" to have the gift of sharing this practice of yoga with other people.
Gabi Perrotti instructs the following:
Connect movement with breath "vinyasa" as the teacher guides you through traditional yoga asana postures sequenced into a "flow". Against a backdrop of great music, move through physical postures, usually starting with a sun salution series. Often included is chanting, pranayama (breathing exercises), yoga philosophy and meditation. All levels of practitioner are welcome at Mixed Level classes, although some knowledge of basic postures is recommended and those new to yoga should bring an open mind and an understanding that class will likely move at a rigorous pace.




A Vinyasa Yoga class performed at a WARM temperature (90+ degrees) and taught at a regular Mixed Level pace. A prior yoga practice and knowledge of basic postures is assumed as the class moves quite vigorously. The only difference between a HOT Flow class and this one is temperature. Come prepared to explore physical postures, traditional yogic chanting, breathwork and philosophy. Bring a non skid towel for your mat, hydrate well prior to class and bring water. We recommend that true beginners should start in Beginner Basics (regular temperature) before moving into WARM or HOT classes.