Denise Corsini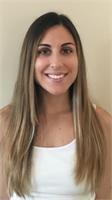 Denise took her first yoga class as a senior in high school and was immediately hooked. She felt inspired by the physical challenge of the asana practice, and curious about the philosophical themes that many of her teachers talked about. She began to practice several times a week and noticed profound changes in her life – less anxiety, elevated mood, improved focus, better sleep, just to name a few. She wanted to share what she had learned, so she signed up for a 200 hour yoga teacher training with Jeannine Dietz, and began teaching soon after. Since then, she has studied with some of her favorite teachers such as Sue Elkind, Naime Jezzeny, Jason Crandell and Noah Maze. In her classes, Denise strives to help her students pay attention to their breath, cultivate a steady awareness on the present moment, and practice asana in a safe and sustainable way. She truly believes that anyone can enhance their life with yoga and feels incredibly blessed with opportunity to teach!
Denise Corsini instructs the following:
Vinyasa Flow yoga taught in a heated environment, 100+ degrees 40%+ humidity. HOT Vinyasa classes move through yoga postures and sequences at a rigorous pace. A prior yoga practice and knowledge of basic postures is assumed given the extreme conditions. Come prepared to sweat and move, although traditional yogic chanting, breathwork, philosophy and meditation are often included also. Bring a non skid towel for your mat, hydrate well prior to class and bring water. Also, dry clothes and/or coverup for after class is advisable. We recommend that true beginners should start in Beginner Basics (regular temperature) or Warm Slow Flow before diving into HOT Vinyasa.