Denise Corsini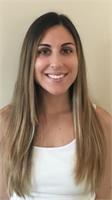 Denise was introduced to the practice of yoga in 2006 and was fascinated by the unique combination of mental stimulation and physical demand. Compelled to learn more, she began to enhance her knowledge of the postures, philosophies, and meditation which has allowed her to appreciate yoga as a holistic science of healing and happiness. She is enthusiastic about sharing her wide range of knowledge so that her students can learn to approach their lives with a deeper sense of awareness and consciousness. She also strives to help students of all levels find the edge of their practice and then guide them to the next level. She has completed a 200 Hour Hot Hatha Vinyasa Teacher Certification as well as a 100 Hour Therapeutic Certification. Come prepared to breathe, sweat and awaken. Allow this sacred practice to transform your life!
Denise Corsini instructs the following:
Vinyasa Flow yoga taught in a heated environment, 100+ degrees 40%+ humidity. HOT Vinyasa classes move through yoga postures and sequences at a rigorous pace. A prior yoga practice and knowledge of basic postures is assumed given the extreme conditions. Come prepared to sweat and move, although traditional yogic chanting, breathwork, philosophy and meditation are often included also. Bring a non skid towel for your mat, hydrate well prior to class and bring water. Also, dry clothes and/or coverup for after class is advisable. We recommend that true beginners should start in Beginner Basics (regular temperature) or Warm Slow Flow before diving into HOT Vinyasa.




Jivamukti is one of the nine internationally recognized styles of Hatha Yoga. Whether you are a beginner or an advanced yogi this class encompasses all levels. You work at your own pace following the teacher's constant guidance. You can either call it a vinyasa flow or a vigorous vinyasa flow partnered with traditional Vedic and contemporary teachings and commentary, breath awareness, hands-on alignment, and relaxation.