Jessie Haims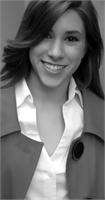 Jessica's approach to yoga is to be safe, approachable, challenging, and fun! Her classes give both modifications and fun variations making sure to offer something appropriate for all levels. Although a true lover of vinyasa yoga, Jessica weaves in theory of how poses work glands, organs, and how these poses keep the body strong to last a life time. Poses will go seamlessly through one another that constantly addresses alignment and anatomy. Jessica has a strong understanding of movement from her professional ballroom career and seeks to share this knowledge to help others. Jessica is honored to study with Phillip Askew, Ivy Kaminer, Abbie Galvin, David Regelin, and Nevine Michaan. Learning from these many different styles allows her to approach students from all wakes of life and help them transform themselves with yoga.
Jessie Haims instructs the following:
Connect movement with breath "vinyasa" as the teacher guides you through traditional yoga asana postures sequenced into a "flow". Against a backdrop of great music, move through physical postures, usually starting with a sun salution series. Often included is chanting, pranayama (breathing exercises), yoga philosophy and meditation. All levels of practitioner are welcome at Mixed Level classes, although some knowledge of basic postures is recommended and those new to yoga should bring an open mind and an understanding that class will likely move at a rigorous pace.




Level 2/3 is designed for students who are prepared to deepen their understanding of philosophy and asana. Students should be relatively independent in their practice, and know many of the names of the more common postures. Level two goes into more intricate understanding of breath and alignment, thus, familiarity with general alignment and movement with breath is expected. Instruction will be given primarily with verbal cues and hands on assists, not visual demonstrations. Students should be comfortable with rigorous surya namaskara; advanced standing balances (i.e. bird of paradise), forward bending (i.e. kurmasana) and backbending (full urdhva dhanurasana), headstand and other inversions. Modifications are fine, but students are expected to have strong knowledge of modifications. Students with a history of injuries are advised to check with the instructor before planning to attend the class.