Ranjitha Sandeep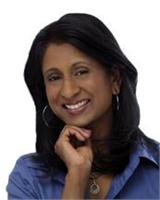 Ranjitha Sandeep is an internationally-acclaimed Ashtanga (Raja) Yoga Therapist. She has taught yoga throughout the United States, Canada, and India, where she received her formative training. Ranjitha comes from a background of Hindu and Buddhist practice and has been involved in yoga and meditation for as long as she can remember. Growing up with immediate family and relatives who were doctors that integrated holistic therapies into their practice to help patients manage medical conditions, Ranjitha was exposed to the power of alternative therapies from a very young age. Meditation and yoga were part of the family's daily routine and today Ranjitha incorporates these early experiences into her wellness practice. Ranjitha's wellness programs combine yoga and meditation with the teachings of the scriptures of yoga. She educates her students on the connection between body, mind, and spirit in the healing and wellness process and her techniques have been used to help people better manage stress, addictions, and disease. She brings an integrated approach of yoga asanas, pranayama and meditation as well as Thai-Chi, Reiki, Ayuveda (sister science of yoga) and Thai Yoga into her unique yoga classes. Ranjitha doesn't just teach yoga postures; instead, she guides her students through the whole new language of Ashtanga through love and compassion towards oneself and she knows how to reach and help people of all ages and physical abilities. Recognized as a leader in the wellness field, Ranjitha is a frequent guest on WBAI radio and has been tapped to speak at medical conferences and hospitals and lead classes and workshops in both corporate and community settings. In addition to teaching in group settings, Ranjitha offers one-on-one coaching and she leads a yoga and meditation certification program to train future leaders in the field. Ranjitha is a Disciple of Yogi Dharma Mitra fron New York and she has studied with Ashtanga Masters Pattabi Josi, David Life and Sharon Ganon from Jiva Mukthi, She is a certified Reiki second degree (energy healing), a certified Thai Yoga therapist, a certified Pilates instructor, and holds a certificate for advanced training of Healing Breath Kriya from world-renowned Master Sri Ravishankar. In addition, she is certified in Deepak Chopra's Seven Spiritual Laws of Yoga. Ranjitha is well-versed in the scriptures of yoga and has taught courses on 8 Limbs of Yoga, Bagavad Gita and Nadis in relation to the chemistry of the central nervous system. Prior to launching Yoga Sutra For Life, Ranjitha was a research engineer for Bell Labs and Lucent where she spent 14 years. She holds a B.S. with double majors in Chemistry and Biology from Bangalore University in India and a Computer Science Degree from Brookdale College, New Jersey.
Ranjitha Sandeep instructs the following:
Connect movement with breath "vinyasa" as the teacher guides you through traditional yoga asana postures sequenced into a "flow". Against a backdrop of great music, move through physical postures, usually starting with a sun salution series. Often included is chanting, pranayama (breathing exercises), yoga philosophy and meditation. All levels of practitioner are welcome at Mixed Level classes, although some knowledge of basic postures is recommended and those new to yoga should bring an open mind and an understanding that class will likely move at a rigorous pace.




This Hatha yoga class is designed to invigorate the mind and the body by moving slowly and methodically through a sequence of traditional postures. Beginning and ending in Savasana, the class is perfect for anybody looking to relieve stress and energize, as well as build flexibility and strength. Appropriate for all levels, including beginners.




Against a backdrop of physical postures and great music, students will experience chanting, pranayama, yoga philosophy and meditation. All levels welcome, beginners should bring sense of humor and an open mind and an understanding that class might move at a rigorous pace.