Shannon Elliott (Malati)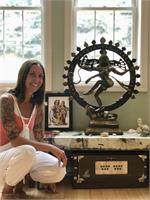 Shannon Elliott (Malati) - Owner and Director
As a yoga instructor and owner, Shannon has nurtured Onyx's growth alongside her own. Shannon teaches both traditional and Kundalini yoga classes placing a keen focus on pranayama, movement, subtle body alignment, and meditation. Her classes are a safe space where students are cared for and strengthened inside. She has the ability to make students feel as if she is speaking directly to them without drawing individual attention to the person. Shannon invites people to experience themselves and deepen their exploration of what they believe possible. Her gift to others is to pass on the Teachings from those who have done the same for her. No matter the audience the Philosophy is spoken to be accessible to everyone and all environments/circumstances. Her classes are a blend of traditional text study including the Patanjali's Yoga Sutras, Bhagavad Gita, and Krishna's many past times and leelas. She incorporates chanting, gong playing, inner exploration, and bhakti love into her classes. Embodying each moment, delving deeper into your own experience, that is the gift of Yoga, one which Shannon lives to share with others. She is grateful to all her teachers, past- present- and future. And will be forever connected to her Guru, Swami Satchidnanda, who has given her the spiritual name "Malati."
Shannon Elliott (Malati) instructs the following:
Connect movement with breath "vinyasa" as the teacher guides you through traditional yoga asana postures sequenced into a "flow". Against a backdrop of great music, move through physical postures, usually starting with a sun salution series. Often included is chanting, pranayama (breathing exercises), yoga philosophy and meditation. All levels of practitioner are welcome at Mixed Level classes, although some knowledge of basic postures is recommended and those new to yoga should bring an open mind and an understanding that class will likely move at a rigorous pace.




Yin is an internal, passive, colling, and downward practice. We wake up the subtle channels while playing with a contemplative, non- reactive quality in the mind. Poses are passively held for longer periods, working on the deep connective tissue, fascia, and joints Yang is an engaging, dynamic, external, warming, and upward practice. This will strengthen and invigorate the body and mind. We will most often be doing a bit of Yang to begin and will shift into a reflective Yin practice to close. This combination will be sure to leave you balanced, open, and refreshed.