Shannon Elliott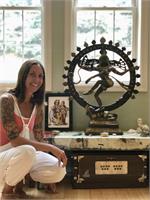 SHANNON ELLIOTT - Owner and Director
Shannon has been integrally involved since we opened our doors in May of 2009. As a yoga instructor and administrator, she has nurtured Onyx's growth alongside her own. Shannon teaches both traditional and HOT yoga classes placing a keen focus on alignment. Her classes are a safe space where students are cared for and challenged. She has the ability to make students feel as if she is speaking directly to them without drawing individual attention to the person. Demanding participation in effort, her students work hard all while having fun. Shannon invites people to challenge themselves and progress pass their limited notions of what they believe possible. Her gift to others is to pass on the Teachings from those who have done the same for her. No matter the audience the Philosophy is spoken to be accessible to everyone and all environments/circumstances. Her classes are a blend of Tantric Philosophy teaching students how to Open their Hearts and connect to the Divine with a strong emphasis on Alignment. She believes that nothing should be done half way. Embodying each moment- as it is happening, balancing the play between the opposites, becoming a Manifestation of your Greatest Desires.
Shannon Elliott instructs the following:
Connect movement with breath "vinyasa" as the teacher guides you through traditional yoga asana postures sequenced into a "flow". Against a backdrop of great music, move through physical postures, usually starting with a sun salution series. Often included is chanting, pranayama (breathing exercises), yoga philosophy and meditation. All levels of practitioner are welcome at Mixed Level classes, although some knowledge of basic postures is recommended and those new to yoga should bring an open mind and an understanding that class will likely move at a rigorous pace.




Experience Kundalini Yoga as taught by Yogi Bhajan. This class will focus on pranayama breathwork, movement, meditation, and kriyas (cleansing practices to help strengthen the nervous system and subtle body to awaken the kundalini energy.) When this energy awakens you will experience your own innate inner power and joy.. You will leave feeling rejuvenated, energized, balanced, and present. Shannon studies Kundalini Yoga under her teacher Guru Jagat.